Biography of Private Alfred Wing (241563)
2nd/5th Battalion Lincolnshire Regiment
Died 15th April 1918
Soldier
Name: Alfred Wing
Date of birth: 1892
Place of Birth: Sudbrook, Lincolnshire, England
Date of Birth Registration: July – September 1892
Place of Birth Registration: Grantham, Lincolnshire, England
Father
Name: Charles Wing
DOB: 1851
Place of Birth: Braceby, Lincolnshire
Occupation: Farm labourer
Mother
Name: Mary Ann Jackson
DOB: 1854
Place Of Birth: Sleaford, Lincolnshire, England
Marriage: 1874 Sleaford District
Siblings: (Name), (DOB), (POB)
George Jackson Wing, 1874, Sleaford
Frederick Wing, 1875, Heckington (died 1875 Sleaford district)
Walter Wing, 1876, Heckington
Mary Elizabeth Wing, 1878, Heckington (died 1879 Grantham)
Albert Wing, 1879, Heckington
Arthur Wing, 1880, Sudbrook (died 1893 Grantham district)
Herbert Wing, 1882, Sudbrook (died 1882 Grantham district)
Ada Wing, 1883, Honington
Ethel Wing, 1884, Honington
Herbert Wing, 1886, Honington
Annie Wing, 1888, Sudbrook (died 1888 Grantham District)
Edward Wing, 1889, Sudbrook (died 1891 Grantham District)
Annie Wing, 1891, Sudbrook
Alfred Wing, 1892, Sudbrook
Mary Lizzie Wing, 1894, Sudbrook (died 1895 Grantham district)
Louisa Wing, 1895, Sudbrook
Arthur Wing, 1899, Kirky la Thorpe
Census
1901: Alfred is living with his parents at 5 West Lea Court, New Seaford, Lincolnshire.
1911: Alfred is living with his parents at Vine Street, Billingborough, Lincolnshire. The census gives him an age of 18 and he is listed as a farm labourer.
Marriage
No marriage for Alfred has been found and because of his age we can assume that he never had the opportunity to marry.
Newspaper Mentions
LIncolnshire Echo Monday 12th November 1917
OFFICIAL LOCAL CASUALTIES
WOUNDED
LINCOLNSHIRE REGIMENT
Wing 241563 Pte. A. (Folkingham)
War Office Weekly Casualty List November 13th 1917
WOUNDED
Lincolnshire Regiment
Wing  241563 A. (Folkingham)
Soldier's Died In The Great War
These records show that Private Alfred Wing, 241563, 5th Bn Lincolnshire Regiment was killed in action on 15th April 1918 in the Western European Theatre in France and Flanders.
Pension Records
Effects Left To
Medals
The British Medal
The Victory Medal
Memorials
Commonwealth War Graves Commission:
In memory of Private Alfred Wing, 241563, 2nd/5th Bn., Lincolnshire Regiment who died on 15 April 1918 Age 27
Son of Charles and Mary Ann Wing, of Vine St., Billingborough, Lincs.
Remembered with honour, Ploegsteert Memorial
Panel 3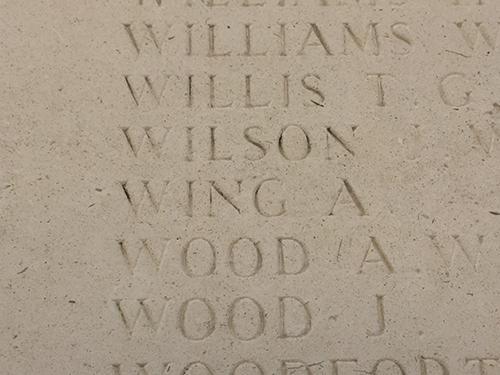 © Picture taken by South Lincolnshire War Memorials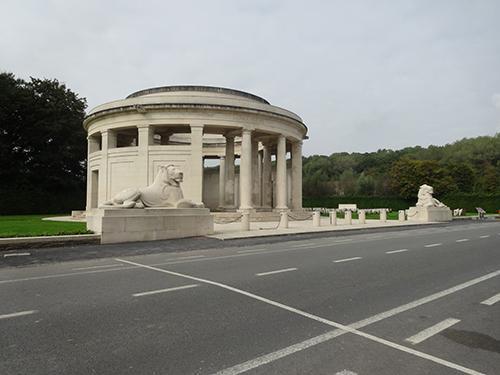 © Picture taken by South Lincolnshire War Memorials
Military Service Timeline
Alfred's service records have not been found thus far and were most likely destroyed in a warehouse fire in the blitz along with 60% of all WW1 service records.

We do know from the Soldier Died in the Great War archive that he enlisted in Bourne although he date is not known. His medal rolls only show a single entry as a private in the 2/5th Battalion Lincolnshire Regiment. His service number of 241563 would indicate an enlistment date February / March of 1916. With conscription for all single men aged over 18 beginning on the 2nd March 1916, this would include the 24 year old Alfred.

As we are not aware of when exactly he joined up or was posted to the Battalion then we can only really tell the story of his war from the battalion diaries for the days leading up to his death on the 15th April 1918.

The 2/5th Battalion had spent March in the area south east of Arras, at Bullecourt, before being moved to Watou west of Poperinge, Belgium, an area used for Battalions moving up to the Ypres salient.

After 4 day of refit the Battalion preceded on the 4th April into the line on the Zonnebeke sector of the salient.

After 5 days in the line near Zonnebeke the Battalion was moved into reserve at St Jean for 2 further days before being entrained for Mont des Cats and then Marched to Locre on the 14th April.

14th April 1918 –  Mont des Cats

2am -Mont Des Cats

Battalion marched to Locre (M.23C sheet 28) where it was temporarily accommodated in huts at 4:50 am.

11am – Locre

Battalion moved out along the Locre – Dranoutre road to about M.29 see where it cleared the road and awaited orders. The CEO and company commanders went forward to reconnoitre the reserve line south of Dranoutre.

Orders were received to relieve the 88th infantry Brigade in the line on Ravelsburg Ridge in S.16 and 17, 22 and 23 Company commanders went off at once to recognise the line and battalion moved off about 10:30 pm.  The 88th infantry Brigade had only occupied their positions for 14 hours and as this Battalion was relieving three regiments relief was not completed until 5:30 am.

15th April 1918 – Bailleul

5.30am – Bailleul

Battalion took over as follows having all their companies holding line, 4 advance posts – 1 from each company. These posts were dug in on the forward slopes along the line S.2 1D.I want to S.23B.0.0 distributed at intervals of about 400 feet. They were age garrisoned by one platoon.

Each company held a part of the support line with three platoons this line was dug on the reverse flow of the Ravelsburg rich along the line S.21.D.0.5 to S.23.A.7.5.

Battalion HQ in a trench at S.16.C.0.7

6.0 am – Bailleul

To hostile patrols about 20 strong advanced against our posts in S.22.D they were driven off leaving three prisoners in our hands and 17 dead and wounded in front of our post.

7.0 am

A hostile patrol advanced against the machine-gun post in S.20 to say they were counter-attacked and driven off leaving 12 prisoners in our hands. During the morning I deserters came over to our lines.

12.0 noon

For an account of the operation during the remainder of the day see special appendix attached.

Appendix – An account of the part taken by the 2/5th Bn Lincolnshire Rgt in operations East of Bailleul on 15th April 1918.

15/4/18

12.0 Noon

At this hour the battalion was disposed as previously described in the war diary to which this account form is in appendix. This position has been taken up during the night 14th and 15th of April 1918.

A heavy bombardment of our position commenced at 12 noon and continued until 2:30 pm when it changed to a barrage falling along the line of that of the units on our right and left.

2.45pm

The enemy delivered an attack against the fourth Lincoln regiment on our left but their line remained remained intact.

3.40pm

Enemy attack developed against our right company in S.21.D this attack was repulsed by our lewis gun and rifle fire.

4.30pm

Left the company commander reported the enemy on the ridge on his immediate left and that the forthcoming concert fallen back from the ridge. They formed a defences flank facing east still keeping in touch with our left company (D company).

5.25pm

At 5:25 pm the line of the 4th Lincoln Regiment in S.16.B and 17.A withdrew to the railway cutting in S.17.A, 11c, 16b and 16a.

5.45pm

The enemy forced his way over the back of the hill at S.16 D breaking the line of the 4th Lincoln and getting behind the left flank of our Battalion including one for platoon of the 4th Lincolns which had continuously maintained touch with our left.

At the same time a frontal attack developed along our front. The left company was last seen in its original position fighting at very close quarters with the enemy. The Lewis gun of this company fired to the last, the enemy advancing in close formations at very short range the remaining three companies on the ridge came under very heavy machine gun fire from the left where the enemy had gained a footing on the ridge.

These companies have heavy casualties and swung round to form a flank facing east. They were gradually driven back on to a line taken up by the 176 infantry Brigade north-east of Bailleul.

6.15pm

Patrols were sent out from Battalion HQ to get in touch with the companies in Front but found only the enemy. To conform with the movements of the 4th Lincoln Regiment battalion headquarters withdrew to S.10.C.7.2 where two companies of the 9th Northumberland Fusiliers were found to be holding a line.

The Battalion HQ personnel were organised into five units and extended the line of the Fusiliers to the right from S.10.C.3.2 to S.10.C.7.2. The enemy attack was checked here.

7pm

During the night the enemy by means of patrols push forward on finding that out right flank was open. Several patrols were sent out to try and establish touch with our troops on the right but without success. In order to prevent the enemy penetrating this gap to platoons of the ninth Northumberland Fusiliers were brought up and the line extended some 500 feet to the north-west to S.9.D.90.75.

11pm

This was the position when orders were received from Brigade to withdraw to Locre.

The following casualties were sustained:

Officers –

Killed. Lieut Colnel H B Roffey D.S.O

Wounded, 2/Lieut Dickinson

Missing, 2/Lieut W G Fenton, 2/Lieut J C Myers.

Other ranks –

Killed, Wounded and Missing, 352

Report signed by Major Commanding 2/5 Lincoln Rgt.
This is ongoing research and will be posted when completed
Sources
WW1 Soldier's Records (www.ancestry.co.uk)
British Newspaper Archive.
Fold 3
Find My Past
Genealogist
Forces War Records
British Army Service Numbers
War Gratuity Calculator
Commonwealth War Graves Commission
National Archives – Battalion War Diaries
General Registry Office