Biography of Private William Russell Green (33514)
2nd Battalion Yorkshire
formerly 32035, 17th Res. Hussars Regt.
Died 29th September 1918
Soldier
Name: William Russell Green
Date of birth: 1895
Place of Birth: Tilley St Lawrence, Norfolk, England
Date of Birth Registration: January – March 1895
Place of Birth Registration: Wisbech, Cambridgeshire, England
Father
Name: William Green
DOB: 1867
Place of Birth: Tilney All Saints, Norfolk, England
Occupation: Coalman
Mother
Name: Mary Ann Munro
DOB: 1869
Place Of Birth: Islington, London, England
Marriage: 12th December 1892 Terrington St Clements, Norfolk, England
Siblings: (Name), (DOB), (POB)
William Russell Green, 1895, Tilney St Lawrence
Henry Walter Green, 1896, Tilney All Saints
Charles Robert Green, 1897, Tilney All Saints
Constance Mary Munro Green, 1898, Tilney All Saints
Kenneth Owen Green, 1900, Tilney All Saints (died 1900)
May Elizabeth Victoria Green, 1901, Tilney All Saints
Frances Marjorie Green, 1906, Tilney All Saints
Census
1901: Charles is living with his parents in Tilney All Saints, Norfolk.
1911: William is living with the Batterham family at Walpole Highway. The census gives him an age of 16 and he is listed as farm servant.
Marriage
No marriage for Charles has been found and because of his age we can assume that he never had the opportunity to marry.
Newspaper Mentions
Grantham Journal Saturday 17th November 1917.
Mr and Mrs W R Green have again been plunged into grief by the news that their second son, Pte. Chas Green (Norfolk Regiment) has been killed in action.  The Colonel of his regiment, in a letter, told them that his death was caused by shell explosion and that he fell while fighting bravely and that he possessed qualities which endeared him to his comrades.  Deceased, who was 20 years of age, worked for Mr Almond in Pointon Fen before the war.  This is the second son Mr and mrs Green have lost in the great struggle, for their eldest son was missing while taking part in the Gallipoli campaign and has not since been heard of.  They have a third son in the fighting zone. Much sympathy is expressed for the sorrowful parents, who are small farmers in the Fen.
Lynn News & County Press Saturday 19th October 1918
In Memoriam
GREEN – Killed in action, Sept. 29, 1918, Pte. Russell Green, Hussars (transferred to Yorks Reg.), aged 23.
Also in loveing memory of Pte. Henry Green, Lincoln Regt., killed August 9, 1915, aged 20; and of Pte. Charles Green, Norfolk Regt., killed Ocober 14, 1917, aged 20.  The beloved and only sons of William and Mary Green, of Aslackby Fen, Linc., and late of Tilney All Saint.
Brother clasps the hand of brother
Stopping, fearless, through the night.
Grantham Journal. Saturday 26th October 1918
KILLED IN ACTION – Mr and Mrs Green, the Fen, have received the distressing news that their son, Pte Russell Green was killed by shrapnel on Sunday July 28th in France. A letter has been received from his officer, saying that he was greatly respected by all who know him.  The body war buried by his comrades with great care and reverence. Mr Green has lost all his three sons the war all killed in action on a Sunday.
Soldier's Died In The Great War
These records show that Private William Russell Green, 33514, 2nd Battalion Yorkshire Regiment was killed in action on 29th September 1918 in the Western European Theatre in France and Flanders.
Pension Records
Effects left Too
Medals
The British Medal
The Victory Medal
Memorials
UK:
Aslackby, plaque in St James' Church
Commonwealth War Graves Commission:
In Memory of Private W R Green, 33514, 2nd Battalion, Yorkshire Regiment who died on 29 September 1918 Age 25.
Son of William R and Mary Green. of Aslackby Fen, Pointon, Billingborough, Lincs
Remembered with Honour Chapel Corner Cemetery, Sauchy-Lestree
Grave F.11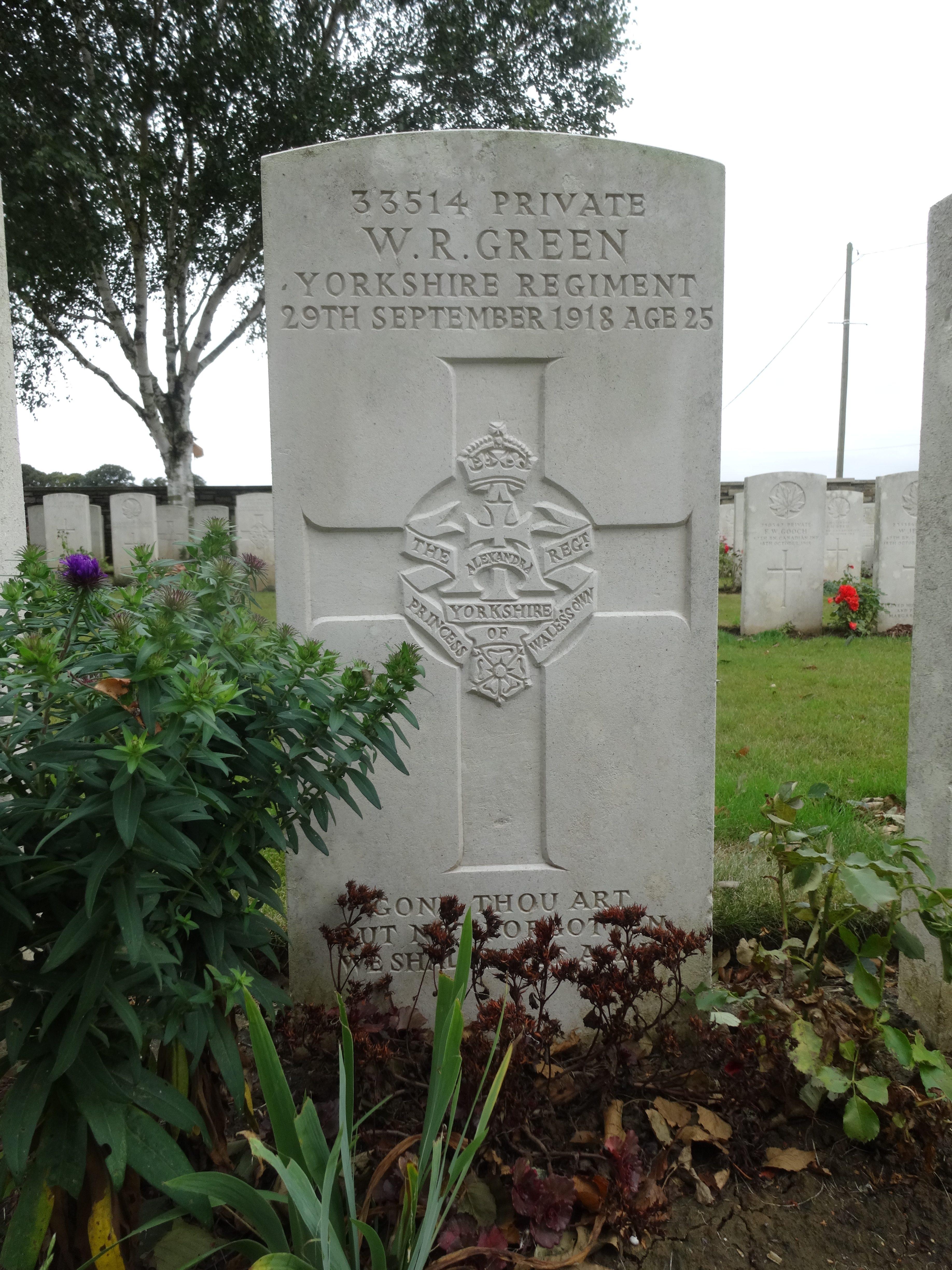 © Picture taken by South Lincolnshire War Memorials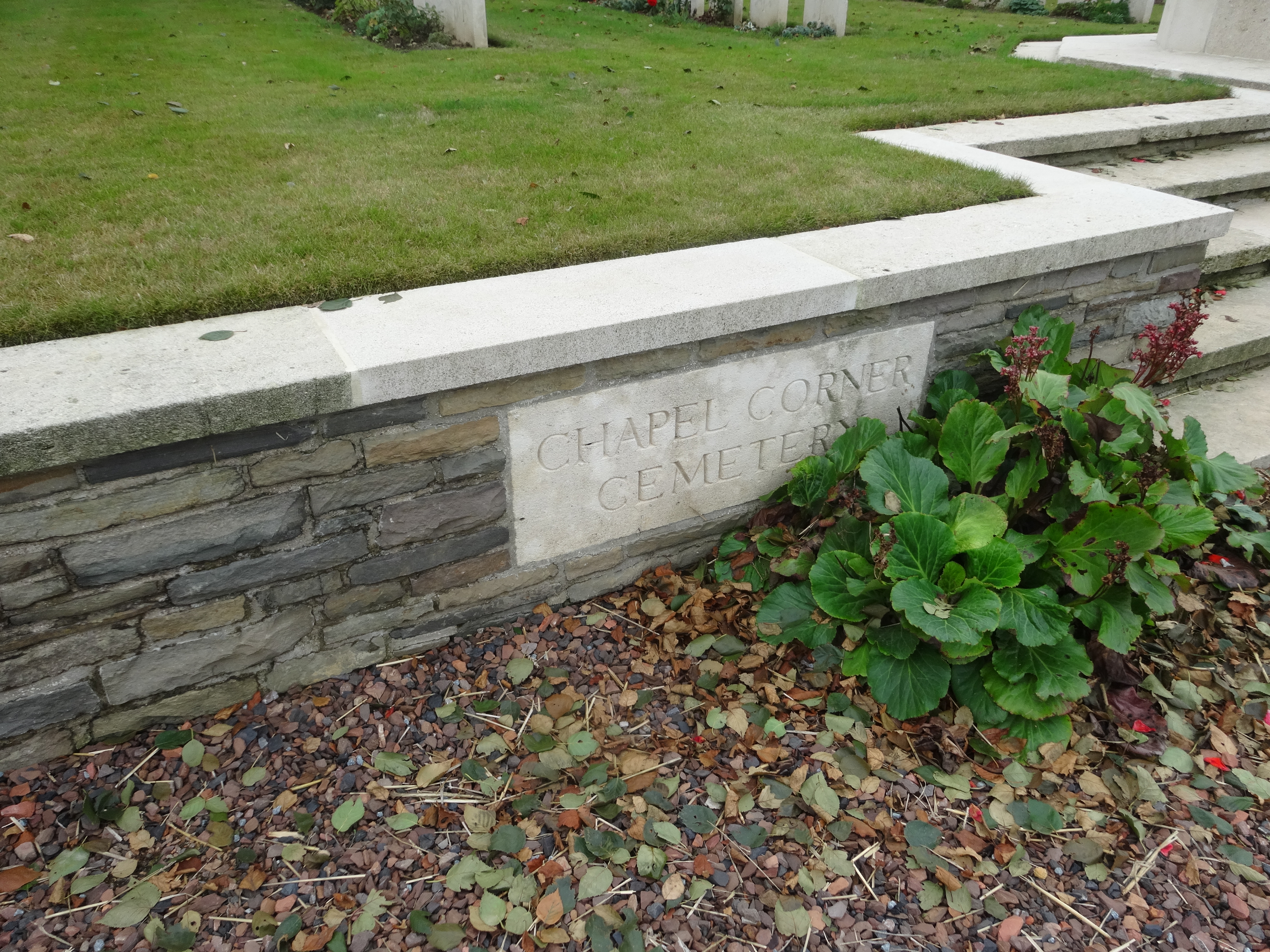 © Picture taken by South Lincolnshire War Memorials
Military Service Timeline
Enlisted in Bourne
Killed in action
This is ongoing research and will be posted when completed
Sources
WW1 Soldier's Records (www.ancestry.co.uk)
British Newspaper Archive.
Fold 3
Find My Past
Genealogist
Forces War Records
British Army Service Numbers
War Gratuity Calculator
Commonwealth War Graves Commission
National Archives – Battalion War Diaries
General Registry Office