Biography of Gunner James William Plowright (149699)
50th Div, Ammunition, Royal Field Artillery
Died 2nd October 1918
Soldier
Name: James William Plowright
Date of birth: 1896
Place of Birth: Aslackby, Lincolnshire, England
Date of Birth Registration: October – December 1896
Place of Birth Registration: Bourne, Lincolnshire, England
Father
Name: John William Plowright
DOB: 1868
Place of Birth: Langtoft, Lincolnshire, England
Occupation: Carpenter on farm
Mother
Name: Sarah Elizabeth Christian
DOB: 1872
Place Of Birth: Scopwick, Lincolnshire, England
Marriage: 19 February 1893 Scopwick, Lincolnshire, England
Siblings: (Name), (DOB), (POB)
Emma Plowright Christian, 1891, Scopwick
James William Plowright, 1893, Scopwick
Ernest Plowright, 1895, Aslackby
James William Plowright, 1896, Aslackby
Florence A Plowright, 1902, Aslackby
Edith Plowright, 1903, Aslackby
John Robert Plowright, 1907, Aslackby
Dorothy Plowright, 1916, Aslackby
Census
1901: James is living with his parents in Aslackby, Lincolnshire.
1911: James is living with his parents in Aslackby, Lincolnshire.
Marriage
No marriage for James has been found and because of his age we can assume that he never had the opportunity to marry.
Newspaper Mentions
War Office Weekly Casualty List January 22nd 1918
WOUNDED
ROYAL FIELD ARTILLERY
Plowright 149699 Gnr. J. W. (Aslackby)
Grantham Journal Saturday 3rd August 1918
ASLACKBY
GUNNER Wm. PLOWRIGHT was reported missing on May 27th.  The Red Cross have made diligent enquiries, and reported that his papers were seized, and it is feared that he has been taken prisoner.  Much sympathy is felt with his following parents.
A MEMORIAL SERVICE was held on Sunday for two of our brave lads, who have made the great sacrifice – Pte. Bertram Barstow and Pte. george Daff.  The Rev. J. S. Barstow, brother of the former, and an Army Chaplain in France, was the preacher, taking 2  Tim. 1. 10 for his text.  Pte Barstow joined the Canadian Army, and was killed in action in France on August 27th, 1917.  Pte. George Daff was a ringer, Sunday School teacher, chorister, and Communicant.  He was reported missing in France in the autumn of 1917, and his body was found a few months after, and reverently buried on the field of battle.  His brother, Pte percy daff, is invalided home with a shrapnel wound, and now lies in hospital.
Grantham Journal Saturday 16 December 1918
Aslackby
The sad news has reached Aslackby that Private Ernest Plowright was killed on Nov 4th and Gnr Herbert Gubbings on Nov 6th. Much sympathy is felt with their bereaved parents. Plowright was sleeping in a barn with his mates and he went outside at 11pm to attend to the horses. At that moment he was struck by shell and fatally wounded. His older brother, William has been missing for seven months and it is thought that he is a prisoner. Gubbins had been home on leave and was in the best of health and spirits on his return to France and his parents who live at Graby were expecting him home again shortly. It is understood that he was in the trenches when he received mortal wound from a shell.
Soldier's Died In The Great War
These records show that Gunner James William Plowright, 149699, Royal Horse Artillery and Royal Field Artillery was killed in action on 2nd October 1918 in the Western European Theatre in France and Flanders.
Pension Records
Effects Left Too
Father John W (Down as James)
Medals
The British Medal
The Victory Medal
Memorials
UK:
Aslackby, plaque in St James' Church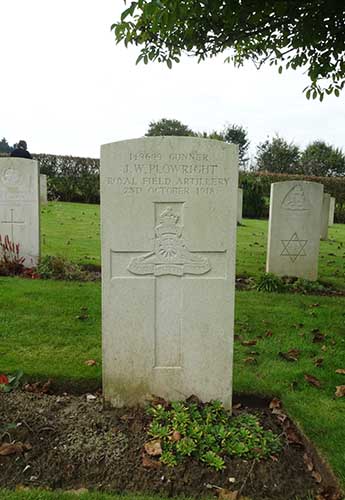 © Picture taken by South Lincolnshire War Memorials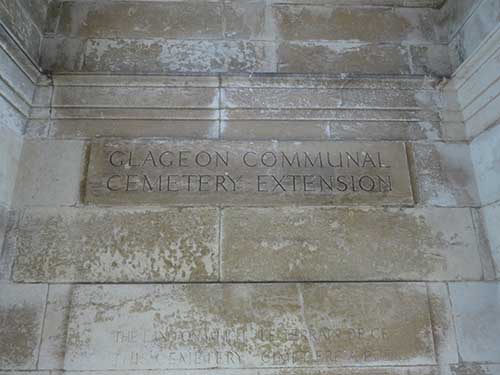 © Picture taken by South Lincolnshire War Memorials
Military Service Timeline
This is ongoing research and will be posted when completed
Sources
WW1 Soldier's Records (www.ancestry.co.uk)
British Newspaper Archive.
Fold 3
Find My Past
Genealogist
Forces War Records
British Army Service Numbers
War Gratuity Calculator
Commonwealth War Graves Commission
National Archives – Battalion War Diaries
General Registry Office