Biography of Private John Richard Lound (52163)
6th Battalion Leicestershire Regiment
Died 7th July 1919
Soldier
Name: John Richard Lound
Date of birth: 1898
Place of Birth: Frieston, Lincolnshire, England
Date of Birth Registration: October – December 1898
Place of Birth Registration: Newark, Nottinghamshire, England
Father
Name: Tom Lound
DOB: 1866
Place of Birth: Ancaster, Lincolnshire, England
Occupation: Agricultural waggoner
Mother
Name: Fanny Doughty
DOB: 1867
Place Of Birth: Leadenham, Lincolnshire, England
Marriage: 1890 Sleaford District
Siblings: (Name), (DOB), (POB)
Eliza Milicent Doughty, 1885, Leadenham (half sister)
Walter Edward Lound, 1891, Wilsford Valley
Thomas Lound, 1893, Wilsford Valley
Mary Jane Lound, 1896, Frieston
John Richard Lound, 1898, Frieston
Gertride Lound, 1901, Frieston
Ethel May Lound, 1903, Frieston
William Lound, 1904, Frieston
Clara Lound, 1907, Frieston
George Henry Lound, 1910, Frieston
Census
1901: John is living with his parents in Caythorpe, Lincolnshire.
1911: John is living with his parents at Frieston, Lincolnshire. The census gives him an age of 12 and he is listed as being at school.
Relatives in services
John's brothers Walter and Thomas also fought and killed in WW1.  They are remembered along with John on the Memorial in St Vincent Church, Caythorpe.
Marriage
No marriage for John has been found and because of his age we can assume that he never had the opportunity to marry.
Newspaper Mentions
Grantham Journal Saturday 9th August 1919
Caythorpe
WHIST DRIVE AND DANCE – An extremely enjoyable whist drive and dance took place on Monday evening.  An exceptionally large number sat down for the "drive," which was condusted by Mr. Moore, the first prises being won by Miss Cartwright and Pte. Connie.  For dancing there gathered a record crowd.  A delightful programme of dance music was provided by the Jazz Band from the Cranwell R.A.F. Station.  Messrs. Moore and T. Paley were M.C.'s.  The refreshments, kindly given, were under the supervision of Mrs. Franklin.  It was the decision of the company that the entertainment was the best on record.  The arrangements were made by men recently demobolised from the services, and the entire proceeds are to be given to Mr. and Mrs. Lounds, who have lost three sons in the war.  The eldest son, walter, was killed in action in France.  Thomas, the second son, was killed on the "Mercian," and quite recently, John, the third son, has been reported accidently killed in France.  Much sympathy is expressed on all sides with Mr. and Mrs. Lounds in their terrible bereavement.
Grantham Journal Saturday 16th August 1919
IN MEMORIAM
LOUND- In ever-loving memory of our dearly-loved sons and brothers, Pte. Walter Edward Lound, killed in action, Aug, 8th, 1918, aged 27 years; Trooper Thomas Lound, killed during shelling of the transport "Mercian," Nov 3rd, 1915, aged 22 years; & Pte. John Richard Lound, accidentally killed in France, July 7th, 1919, aged 20 years.

Oh! why were they taken, so young and so fair,
From mother and father who loved them so dear?
We never forget them, nor do we intend;
We think of them daily, and will to the end.

From their sorrowing PARENTS, SISTERS, & BROTHERS.
Grantham Journal Saturday 23rd August 1919
Private J. R. LOUND of Caythorpe
ACCIDENTALLY KILLED IN FRANCE
The above photograph is of Pte. John Richard Lound,  of Caythorpe, the sad news of of whose death appeared in our last issue.  The deceased was  the third son of Mr. and Mrs. J. Lound, of this village.  He enlisted on reaching the age limit, and joined the Lincolnshire Regiemnt, and although only in his 20th year, he had seen service in France.  The sad news of his death was officially announced as follows:- "Pte. J. R. Lound accidentally killed in France, July 7th, 1919."  This is the third son that Mr. and Mrs. Lound have lost in the war, and the deepest sympathy goes out to them in their great bereavement.
Soldier's Died In The Great War
Pension Records
Effects Left To
Medals
The British Medal
The Victory Medal
Memorials
UK:
Witham on the Hill, Roll of Honour in St Andrew's Church
St Vincent's Church, Caythorpe
Commonwealth War Graves Commission:
In memory of Private J R Lound, 52163, 6th Bn., Leicestershire Regiment who died on 7 July 1919
Remembered with honour, Adanac Military Cemetery, Miraumont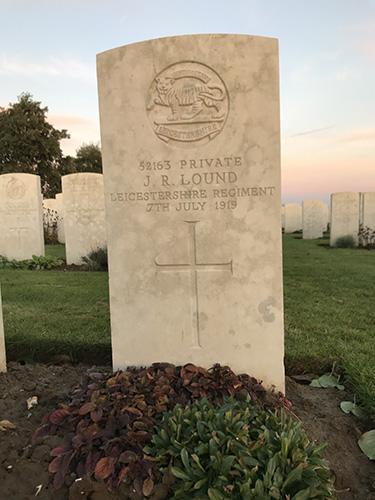 © Picture taken by South Lincolnshire War Memorials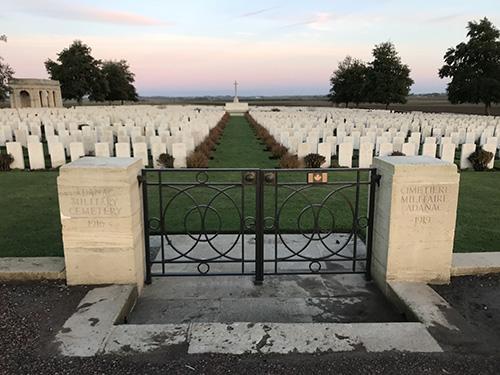 © Picture taken by South Lincolnshire War Memorials
Military Service Timeline
This is ongoing research and will be posted when completed
Sources
WW1 Soldier's Records (www.ancestry.co.uk)
Commonwealth War Graves Commission
British Newspaper Archive.