Biography of Private George Edgar Wright (31278)
1st Battalion Lincolnshire Regiment
Died 26th October 1917
Soldier
Name: George Edgar Wright
Date of birth: 1892
Place of Birth: Thurlby nr Bourne, Lincolnshire, England
Date of Birth Registration: July – September 1892
Place of Birth Registration: Bourne, Lincolnshire, England
Father
Name: William Wright
DOB: 1856
Place of Birth: Thimbleby, Lincolnshire, England
Occupation: Artisian well borer
Mother
Name: Mary Susan Pear
DOB: 1859
Place Of Birth: Pinchbeck, Lincolnshire, England
Marriage: 1883 Bourne District
Siblings: (Name), (DOB), (POB)
Martha Ann Wright, 1884, Thurlby
John William Bryan Wright, 1886, Thurlby
Ewart Charles Francis Wright, Somersby
Annie Elizabeth Wright, 1889, Somersby (died 1891)
Ellen Drakard, 1891, Thurlby (step sister)
George Edgar Wright, 1892, Thurlby
Annie Lizzie Wright, 1894, Thurlby
Edward Victor Wright, 1896, Thurlby
Bertie Wright, 1898, Thurlby (half brother)
Herbert Wright, 1899, Thurlby (died 1899) (half brother)
Walter Wright, 1900, Thurlby (half brother)
Arthur Drakard Wright, 1903, Thurlby (half brother)
Census
1901: George is living with his father and step mother in Crown Lane, Thurlby nr Bourne, Lincolnshire.
1911: George is living with his father and step mother at Northorpe nr Bourne, Lincolnshire. The census gives him an age of 18 and he is listed as a horseman on farm.
Wife
Name: Ethel Hardes
Date of birth: 23rd December 1894
Place of Birth: Bromley by Bow, Middlesex
Marriage
Date of Marriage: 1917
Place of Marriage: Stepney District
Children
George Albert Wright, 1917, Northorpe nr Bourne, Lincolnshire
Wife's parents
Father: Richard William James Hardes
Mother: Anna Pugh
Newspaper Mentions
War Office Weekly Casualty List Tuesday December 4th 1917
KILLED
LINCOLNSHIRE REGIMENT
Wright 31278 G. E. (Bow, E)
Grantham Journal Saturday 10th November 1917
THURLBY
THE TOLL OF WAR – News has reached Thurlby of the death in action, on the same day, of two of Thurlby's contribution to our fighting line – on Oct. 26th, of Pte. Arthur Elvidge, of the Motor Transport, and Pte, George Wright, of the Lincolns.  Pte. Elvidge was the elder son of Mr. and Mrs. W. E. Elvidge, late of the Priory Farm, who removed to Laimdon, Essex, last April.  Mr. and Mrs. Elvidge, who had lived in Thurlby twenty-six years, were well-known and respected, and the loss of their son will call forth the sympathy of their many friends.  Pte. george Wright was the third son of Mr. Wm. Wright, of Northorpe.  Previous to joining the Forces Pte. Wright was in the Metropolitan Police.  He was maimed a few months ago, and the sympathy of the village is with the young widow and the parents in their great bereavement.
Soldier's Died In The Great War
These records show that Private George Edgar Wright, 31278, 1st Bn Lincolnshire Regiment was killed in action on 26th October 1917 in the Western European Theatre in France and Flanders.
Pension Records
Effects Left To
Medals
The British Medal
The Victory Medal
Memorials
UK:
Thurlby, Roll of Honour in St Firmins Church
Commonwealth War Graves Commission:
In memory of Private George Edgar Wright, 31278, 1st Bn., Lincolnshire Regiment who died on 26 October 1917 Age 25
Son of William and Mary Susannah Wright; husband of Ethel Wright, of 7, Sherwood St, Bow Common, Bow, London.
Remembered with honour, Tyne Cot Memorial
Panel 35 to 37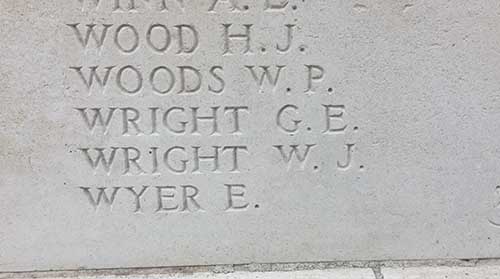 © Picture taken by South Lincolnshire War Memorials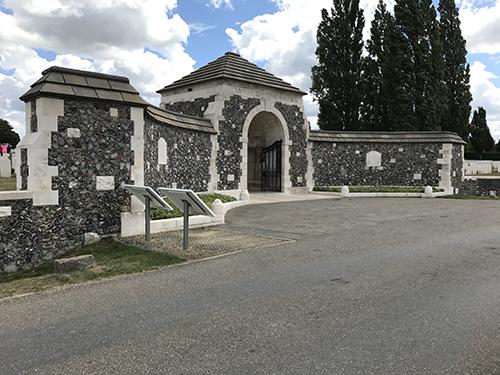 © Picture taken by South Lincolnshire War Memorials
Military Service Timeline
This is ongoing research and will be posted when completed
Sources
WW1 Soldier's Records (www.ancestry.co.uk)
British Newspaper Archive.
Fold 3
Find My Past
Genealogist
Forces War Records
British Army Service Numbers
War Gratuity Calculator
Commonwealth War Graves Commission
National Archives – Battalion War Diaries
General Registry Office