Biography of Private Bertram Plummer (41218)
11th Battalion Suffolk Regiment
Formerly Tr/6/5755, T.R
Died 27th May 1918
Soldier
Name: Bertram Plummer
Date of birth: 1898
Place of Birth: Martin, Lincolnshire, England
Date of Birth Registration: January – March 1898
Place of Birth Registration: Sleaford, Lincolnshire, England
Father
Name: Joseph Plummer
DOB: 1868
Place of Birth: Carlton Scroop, Lincolnshire, England
Occupation: Agricultural labourer
Mother
Name: Ellen Richardson
DOB: 1865
Place Of Birth: Horbling, Lincolnshire, England
Marriage: 1890 Bourne District
Siblings: (Name), (DOB), (POB)
Nellie Plummer, 1893, Sudbrook Heath
Bertram Plummer, 1898, Martin
Census
1901: Bertram is living with his mother in Church Row, Horbling, Lincolnshire.
1911: Bertam is living with his mother in Horbling. The census gives him an age of 13 and he is listed as still at school.
Marriage
No marriage for Bertram has been found and because of his age we can assume that he never had the opportunity to marry.
Newspaper Mentions
Lincolnshire Echo Thursday 8th November 1917
Serveral Billingborough and Horbling boys are reported wounded.  Mr. H. C. Harrison, corn merchant, Billingborough, has received a letter from his son Dick, who is serving with the R. G.A. in France, stating that he is in hospital having been wounded in the back.  At the beginning of the week the family were anxiously awainting further information.  There older son, Fred, is still in Hospital suffering from wounds received last April.  Mrs Plummer (Horbling) has received as official notification that her only son, Pte. Bert Plummer (Suffolk Regy.) has been badly gassed and is now in Hospital in Sheffield.  Pte. West (Lincolns), son-in-law of Mr. J. Bromley (Horbling), is also in hospital at Liverpool suffering from severe wonds in both legs, one arm and body.
War Office Weekly Casualty List December 4th December 1917
WOUNDED
SUFFOLK REGIMENT
Plummer 41218 B. (Falkingham)
Grantham Journal Saturday 22nd June 1918
ACKNOWLEDGMENT
Mrs Plummer and Nellie (Horbling) wish to thank all friends for their kindness and sympathy in their recent bereavement.
Soldier's Died In The Great War
These records show that Private Bertram Plummer, 41218, 11th Bn Suffolk Regiment was killed in action on 27th May 1918 in the Western European Theatre in France and Flanders.
Pension Records
Effects Left To
Medals
The British Medal
The Victory Medal
Memorials
UK:
Horbling, Roll of Honour in St Andrew's Church
Commonwealth War Graves Commission:
In memory of Private Bertram Plummer, 41218, "D" Coy, 11th Bn., Suffolk Regiment who died on 27 May 1918 Age 20
Son of Joseph and Ellen Plummer, of Horbling, Billingborough.
Remembered with honour, Horbling (St Andrew) Churchyard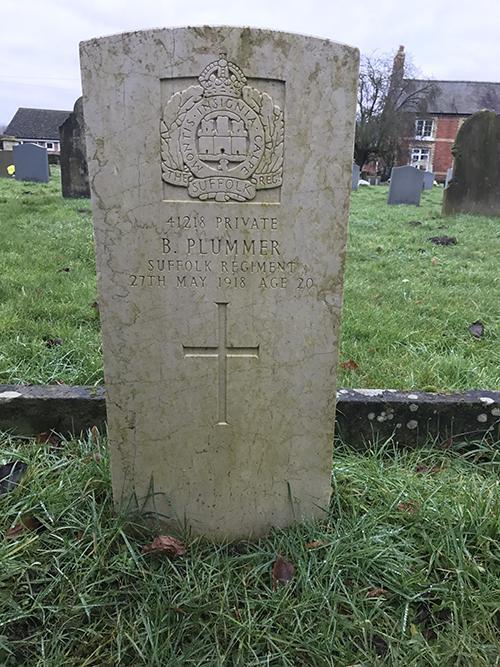 © Picture taken by South Lincolnshire War Memorials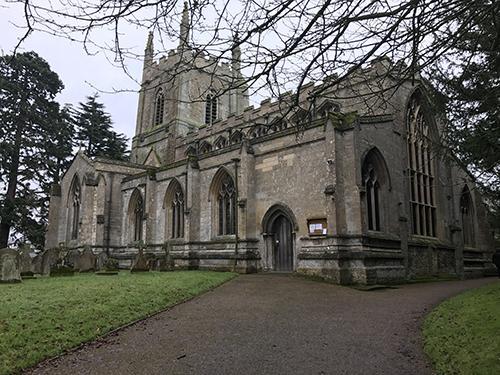 © Picture taken by South Lincolnshire War Memorials
Military Service Timeline
As with 60% of all WW1 service records, Bertram's service records cannot be found and were most likely destroyed when a London warehouse suffered a fire as part of the Blitz in WW2. The following has been pieced together from other surviving records but unfortunately that make giving precise dates very difficult.
Bertram enlisted in the Army in Bourne around 28th December 1916 around his 18th Birthday. Conscription had come in in January 1916 and that meant that every single man between the age of 18 and 40 had to enlist.
He was posted to the 6th Training Reserve and given the regimental number TR/6/5755.
The way that the army trained recruits changed in 1916 and rather than having each Regiment and battalion having their own training, all men now were trained in a battalion not affiliated to a specific Regiment. This was changed again in 1917 when the Training Reserve Battalions were affiliated to a local regiment again.
Once his basic training had been completed he would have been posted to an infantry base in France and then posted to his Battalion, in the case of Bertram the 11th Battalion Suffolk Regiment.
Once again the dates are unknown but it would be assumed that the posting to France would have been around March 1917.
During 1917 the Battalion were involved in the First and Second Battles of the Scarpe, the Battle of Arleux, the fighting at Hargicourt, and the Third Battles of Ypres, (Paschendaele).
As there are no confirmed dates for Bertram we are not sure exactly when he joined the Battalion but we do know from records that he was in a base hospital suffering from the effects of being gassed, on the 1st November 1917, whilst the Battalion was involved in the Battle of Passchendaele.
The battalion diary has the following information:
12th October 1917 – Soult and Leipsig Camps
Resting and Bathing.
14th October 1917
1pm – Battalion moved to Bridge Camp for rest
16th October 1917 – Soult Camp
2pm – Battalion moved to Soult Camp
17th October 1917 – Stray Farm Area
Battalion moved forward to Stray Farm Area. Battalion HQ in dougout jn Stray Farm, the remainder of the Battalion in bivouacs, transport remained in Bridge Camp.
18th October 1917
The Battalion less Battalion HQ moved to a new camp about half-a-mile S.W. of Stray Farm, parties found for building Nissan huts and carrying duckboards. Extra water bottles and stores drawn for taking to front line. During night of 18/19 the camp was bombarded by gas shells.
Lt F Ashworth and Sgt Boggis and about 20 other ranks were gassed. The whole Battalion being slightly gassed.
Looking at the Battalion Diaries they report that during the whole of October the casualty report was:-
Officers, 1 killed, 6 wounded or gassed, 2 died of wounds.
Other ranks, 26 killed, 118 wounded or gassed, 12 missing.
The normal procedure for a wounded man would mean being taken to a Aid and Bearer (First aid) post close to the front line to be assessed by a medical officer. From here the route would be by stretcher bearers of the Field Ambulance back to an advanced dressing station to get further treatment before being evacuated to a casualty clearing station. At the casualty clearing station, typically a few miles behind the lines, he would once again be assessed and then arrangements made to place him on an ambulance train to take him back to the Base Hospital at Etaples. At any stage he could be patched up and sent back to the line if he was still physically fighting fit.
Bertram was admitted to hospital in Etaples with the aftereffects of a mustard gas shell. The notes on the admission paperwork state that he was discharged from the hospital and placed on Trip No 145 on the 1st November. At this point he is serving with B Company of the 11th Suffolk Regiment.
On the 1st November 1917 Bertram Plummer was entrained at Etaples on the 31st Ambulance Train, carrying 472 cases of Convalescents to England. Leaving Etaples at 05:00am it arrived at Calais at 11:05 where the cases were detrained and moved onto two hospital ships, H.M.A.Ts Brighton and Newhaven. These ship brought the men back to England.
The War Office posted their daily list 5427 (NLS 1917_WList18) on the 27th November 1917 and within this list we can find B Plummer 41218 listed amongst the wounded. This would make him authorised to wear a wound stripe on his uniform sleeve.
These lists were known to be around 4-6 weeks behind time due to the trail the paperwork had to take. These were used to gather information from all corners of the world where the British Army were serving.
After convalescing a soldier was released from hospital and if that soldier was not fully fit for return to action they were sent to an Infantry Command Depot. These were convalescent camps where they would receive rehabilitative training in order to become fit to be sent back to the front.
Bertram Plummer was admitted to hospital on 16th March 1918. B Plummer of "Inf Com Dep", the 11th Suffolk Regiment, is admitted into Catterick Reserve Centre Military Hospital. He was admitted for Tuberculosis and treated in the hospital.
The ledger also says that he had been serving for 1 year and 3 months when admitted which falls in with the enlistment date we had calculated from his War Gratuity Payment.
On the 27th May 1918, after 72 days in Catterick Hospital Bertram Plummer died of Tuberculosis. He was returned to his native Horbling where he was buried in the cemetery of St Andrew's Church.
On 30th July 1918 the war Office daily list number 5631 (NLS 1918_Wlist53) reported that B Plummer 41218 of the Suffolk Regiment, previously posted as missing now reported dead. This document does not make any sense in relation to the other documents we have researched.
Sources
WW1 Soldier's Records (www.ancestry.co.uk)
Commonwealth War Graves Commission
British Newspaper Archive.