Biography of Gunner Samuel William Jackson (340965)
76th Siege Battery, Royal Garrison Artillery
Died 24th June 1917
Soldier
Name: Samuel William Jackson
Date of birth: 1884
Place of Birth: Yaxley, Huntingdonshire, England
Date of Birth registration: October – December 1884
Place of Birth Registration: Peterborough, Northamptonshire, England
Father
Name: Robert Jackson
DOB: 1863
Place of Birth: Yaxley, Huntingdonshire, England
Occupation: Farm Labourer
Mother
Name: Eliza  Ellen Wood
DOB: 1859
Place Of Birth: Collyweston, Northamptonshire
Marriage: 1884 Peterborough District
Siblings: (Name), (DOB), (POB)
Samuel William Jackson, 1884, Yaxley
Jonathan Jackson, 1886, Borough Fen
Ann Jackson, 1888, Borough Fen
Robert Jackson, 1889, Borough Fen (Died 1889)
Henry Jackson, 1890, Borough Fen
Joseph Jackson, 1891, Borough Fen
Eliza Ellen Jackson, 1892, Borough Fen (Twin)
Maud Mary Jackson, 1892, Borough Fen (Twin)
Ethel May Jackson, 1893, Borough Fen
Arthur Jackson, 1894, Borough Fen (Died 1894)
Mary Jackson, 1895, Borough Fen
George Jackson, 1895, Borough Fen
James Alfred Jackson, 1897, Borough Fen
Frederick Jackson, 1898, Borough Fen
Mary Elizabeth Jackson, 1899, Borough Fen
Plus 3 more which names are unknown taken from 1911 census
Census
1891: Samuel is living with his parents in Borough Fen
1901: Samuel is living with his parents in Borough Fen
1911: Samuel is living in Borough Fen with his wife Alice. The census gives him an age of 26 and he is listed as a labourer of farm.
Wife
Name: Alice Baggaley
Date of birth: 1888
Place of Birth: Sutterton, Lincolnshire
Marriage
Date of Marriage: April-June 1908
Place of Marriage: Sleaford District
Wife's parents
Father: Joseph H Baggaley
Mother: Milleston Porter
Newspaper Mentions
Grantham Journal Saturday 28th July 1917
Died of wounds
R.G.A. Jackson 340965 Gnr.(Bourne).
Lincolnshire Free Press Date unknown.
Our weekly showing how the Free Press covered World War One 100 years ago.
'Respected, cheerful and well liked' gunner from Weston was another casualty of was.
Three more local men who were casualties of the war were pictured in the Lincolnsshire, Boston and Spalding Free Press of October 16th 1917.
It was reported that Corpl W Clifton, of Spalding, and Gunr SW Jackson, of Haconby Fen, had died of wounds, while Gunr Harold Dean, Of Weston, had been killed in action.
In a letter sent to his mother, it was sid that the "well liked, cheerful and respected" Gunr Dean's death was caused by a German shell which pitched close to him, killing him instantly.
Soldier's Died In The Great War
These records show that Gunner Samuel William Jackson, 340965, 76th Siege Battery, Royal Garrison Artillery was killed in action on 24th June 1917 in the Western European Theatre in France and Flanders.
Pension Records
Effects Left Too
Medals
The British Medal
The Victory Medal
Memorials
UK:
Haconby, plaque in St Andrew's Church
Commonwealth War Graves Commission:
In Memory of Gunner Samuel William Jackson, 340965, 76th Siege Bty, Royal Garrison Artillery who died on 24 June 1917 Age 32
Husband of Alice Jackson, Newark Road, North Hykeham, Lincoln
Remembered with Honour, Lijssenthoek Military Cemetery
Gravel  XIV.D.8A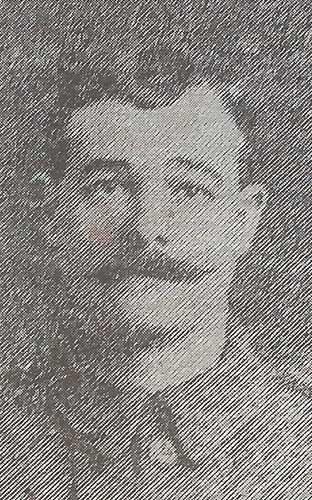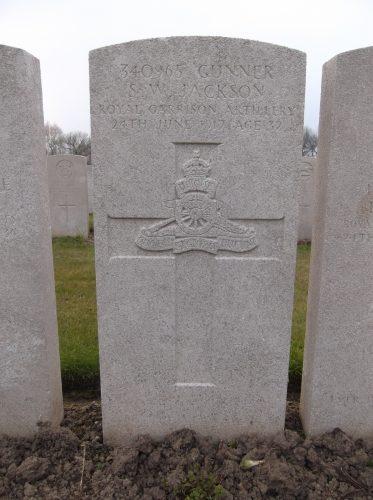 © Picture taken by South Lincolnshire War Memorials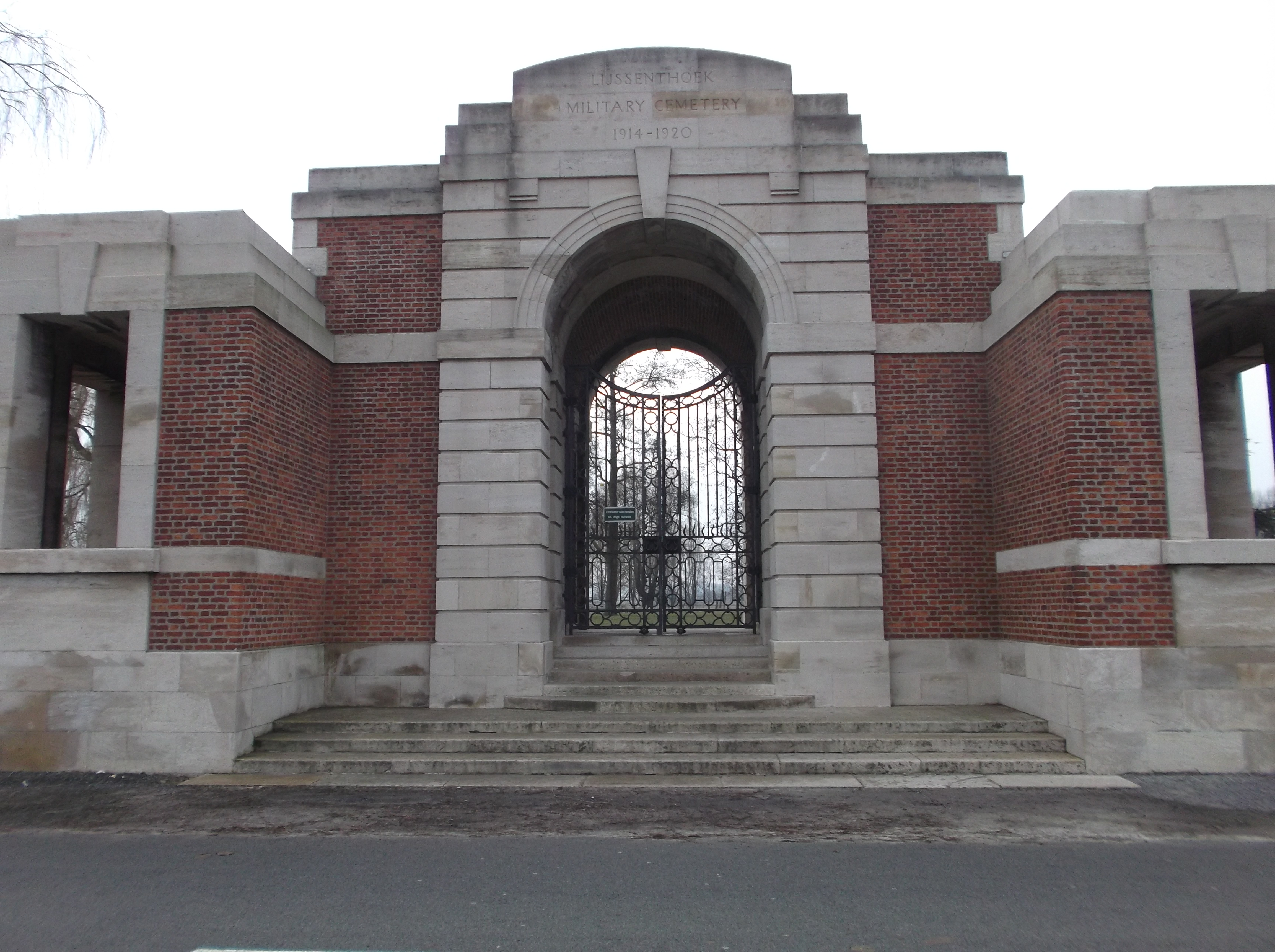 © Picture taken by South Lincolnshire War Memorials
Military Service Timeline:
Sources
WW1 Soldier's Records (www.ancestry.co.uk)
British Newspaper Archive.
Fold 3
Find My Past
Genealogist
Forces War Records
British Army Service Numbers
War Gratuity Calculator
Commonwealth War Graves Commission
National Archives – Battalion War Diaries
General Registry Office