Biography of Private Walter Carrington, (26870)
2nd Battalion Lincolnshire Regiment
Died 4th March 1917
Soldier
Name: Walter Carrington
Date of birth: 1883
Place of Birth: Billingborough, Lincolnshire, England
Date of Birth Registration: October – December 1883
Place of Birth Registration: Bourne District
Father
Name: Unknown as is so called father William Carrington died in 1880 but probably John Johnson as he married his mother in the same year he was born.
DOB:
Place of Birth:
Occupation:
Mother
Name: Jane Gibson
DOB: 1853
Place Of Birth: Braceby, Lincolnshire, England
Marriage:
Siblings: (Name), (DOB), (POB)
John H Johnson, 1875, Roxholm (Step brother)
William Johnson, 1877, Thurlby (Step brother)
Eleanor Mary Carrington, 1877, Basford (Half sister)
James C Johnson, 1879, Thurlby (Step brother)
Sarah V Johnson, Billingborough, (Step sister)
Mary A Johnson, 1882, Billingborough (Step sister)
Walter Carrington, 1883, Billingborough
Arthur Johnson, 1889, Billingborough (Half brother)
Frances Jane Johnson, 1891, Billingborough (Half sister)
Henry Johnson, 1894, Billingborough (Half brother)
Frederick Johnson, 1897, Billingborough (Half brother)
Census
1891: Walter is living with his mother and step father in Billingborough, Lincolnshire
1901: Walter is living with the Waters family in Dyke, Lincolnshire as a boarder working as a horseman on farm.
1911: Walter is living with his mother in Billingborough, Lincolnshire. The census gives him an age of 27 and he is listed as a farm labourer.
Relatives in services
Walters brothers fought in WW1. James who was wounded and has been discharged.  Lance Corpl. Arthur Johnson in the Lincolns, Cyclist H. Johnson, Pte F. Johnson in the Lincolns and W Johnson.
Wife
Name: Flora Stead
Date of birth: 1888
Place of Birth: Wittering, Northamptonshire, England
Marriage
Date of Marriage: 25 May 1915
Place of Marriage: Thurlby, Lincolnshire
Children
John Frederick Carrington, 1916, Billingborough
Wife's parents
Father: John Stead
Mother: Jane Archer
Newspaper Mentions
Grantham Journal Saturday 5th May 1917
BILLINGBOROUGH
KILLED, WOUNDED AND MISSING:- Another of our brave boys has made the great sacrifice. We refer to Pte Ed. Chapman (Lincolnshire Regiment, T.F.) aged 27, whose father Mr J E Chapman, Crown Hotel, on Saturday received an official telegram stating that his son was dangerously ill aboard suffering from severe gunshot wound in the right thigh. This was followed  on Monday by another wire stating that he had succumbed. Pte Chapman was well known and much liked. He assisted his father, the local agent for Messrs Warwicks and Richardsons Ltd., and was at one time secretary of the Town F. C. News has also been received that Pte Fred Harrison, son of Mr H.C. Harrison, corn merchant, has been wounded by shrapnel in the face, arm and leg on April 21st. He was the first to enlist from here, under the late Lord Kitchener's appeal and joined the Lincolns being transferred to a Machine Gun Corps. In France he has had some hairbreadth escapes. Only a week before he told of the explosion of an ammunition dump while his party were crossing a bridge, which was blown up and he with it but as he cheerily remarked his luck stuck to him and got off with a few bruises and a shaking. He has also had his riffle smashed in his hand by enemy fire and has been blown out of the trenches. His letter is in most cheerful terms and he says he is in a fine hospital on the coast. Mr Philip Harris of Pointon has also heard from his son Pte George Harris (Lincolns) stating that he has been wounded and is now in a hospital at Paisley. A short time ago he received gunshot wound in the leg and was sent to Horbling V.A.D. Hospital, where he made a good recovery. Only a week or two ago news was received that another son Pte Harold Harris (Lincolns) had been wounded in the leg. He is making satisfactory progress. There are two other sons of this family fighting in France. Another local bot – Pte T Dawson (York and Lancaster Regiment), who has been wounded twice previously, has again been disabled. He is a son of Mr Tom Dawson and brother to Mr Edward Dawson, carrier. Mrs Johnson of High Street and her friends are much concerned at the absence of news of her son Pte Walter Carrington (Lincoln Regiment) , who has not been heard of for many week. This is a most patriotic family, for there were six boys in the Army, but one of them (James), who was wounded has been discharged. The others are Lance Corpl. Arthur Johnson (Lincolns), Cyclist H. Johnson, Pte F. Johnson (Lincolns) and W Johnson. Another local boy – Gunner Martin Spencer (R.G.A) has not been heard of for quite a long time and letters addressed to him have been returned.
Soldier's Died In The Great War
These records show that Private Walter Carrington, 26870, 2nd Battalion Lincolnshire Regiment was killed in action on 4th March 1917 in the Western European Theatre in France and Flanders.
Medals
The British Medal
The Victory Medal
Memorials
UK:
Billingborough, Roll of Honour in Billingborough St Andrews Church
Commonwealth War Graves Commission:
In memory of Private Walter Carrington, 26870, 2nd Battalion, Lincolnshire Regiment who died on 4 March 1917, Age 33.
Son of Mrs Johnson of Horbling, Billingborough, Lincs; husband of Flora Carrington of Castle Bytham, Grantham, Lincs
Remembered with honour, Thiepval Memorial
Pier and Face 1 C.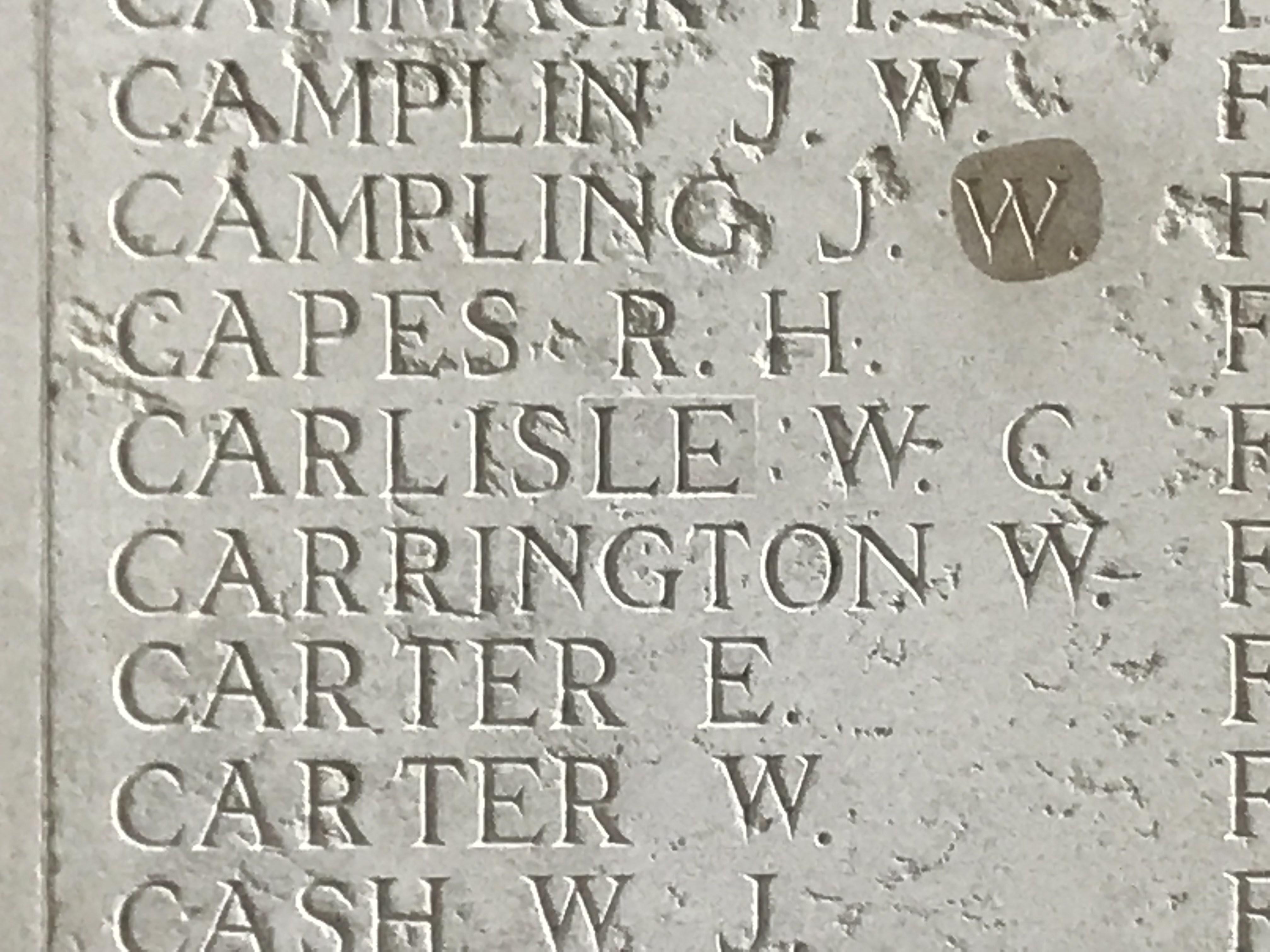 © Picture taken by South Lincolnshire War Memorials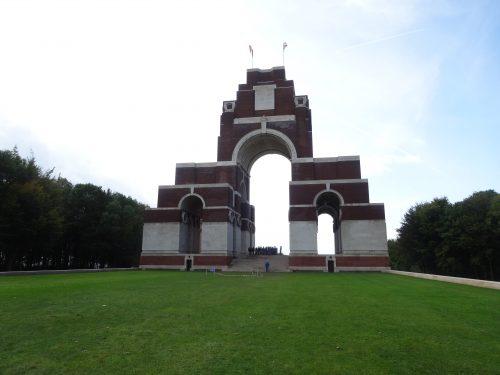 © Picture taken by South Lincolnshire War Memorials
Military Service Timeline
Walter Carrington was born in 1883 and his baptism record in 1884 shows he is the son of William Carrington of Billingborough and his wife Jane Gibson. William had actually died in 1880 and Jane had remarried to John Johnson just before Walter's baptism.
In 1891 Walter Carrington was listed on the census as the stepson of John Johnson but by 1901 he was using the name Walter Johnson for the census. By 1911 John Johnson had died and Walter can be seen living with his widowed mother and step brother Frederick Johnson in Billingborough.
Walter Married in 1915 to Flora Stead, born in Wittering by then a resident in Castle Bytham. They had a son John Frederick Carrington born April 30th 1916 in Billingborough.
In January 1916 conscription was introduced for every unmarried man between the age of 18 and 41. Within a few months this was rolled out to include married men although certain occupations were exempt and could appeal.
Walter joined the 2nd battalion Lincolnshire regiment on 14th July 1916 in Grantham.
Walter was trained with the 9th Service Battalion at Brocton between the 20th July and 27th August 1916 before being shipped to Calais on the 13th November. On arrival at the base camp he was posted to the 8th Battalion and would have undertaken further training at the camp. Walter was eventually posted back to the to the 2nd Battalion Lincolnshire Regiment on 28th November 1916 and went on active duty for his Battalion who at the time where in training at Heucourt whilst in Corps reserve.
This was to continue until the 28th December when they were to leave for Camp No 15 near Morlancourt by train. The next two days would see them move up to the Saillisel sector and on the 31st relieve the 1st Warwickshires in the trenches.
Walter's first taste of the trenches was only a single four day tour before being relieved.
The Battalion was next moved back to Airains by train and marched back to Heucourt for platoon reorganisation, Platoon, Company and Battalion training.
Training would continue until the 26th when they would move to Camp 21 at Suzanne (Somme) and then back into trenches near Rancourt or 4 days in Brigade Support before taking over front line trenches from the 8th Berkshires. They would then spend the first half of February in tours of the trenches before being pulled back to Suzanne and then onto Bouchavesnes for the remainder of the month.
By March 1917 the Battalion were in action on the Somme section of the Western Front in the area between Bapaume and Peronne.
Taken from the 2nd Battalion Diary;
On the 1st March 1917 the battalion moved back to dugouts in Junction Wood and into Brigade Reserve. The 2nd saw them move up to dugouts and cellars in Lockbarracks and Bouchavesne again in brigade reserve where they remained on the 3rd March.
At 5:15am on the 4th the 8th Division carried out an attack east of Bouchavesnes to gain the high ground from which the enemy had observation of our positions.
The battalion was detailed for the following duties in support of the 2nd Royal Berkshire Regiment who were the assaulting battalion of the 25th infantry Brigade. "C" company and half of "D" company as moppers up "B" company and the other half of "D" company as carriers. "A" Company and the battalion lewis gunners hold the front line from which the attack was launched.
The attack was most successful and all objectives gained.
1 officer killed, 2 wounded and 1 missing. Other ranks, 18 Killed, 33 wounded and 13 missing.
The Division listed 1137 casualties from the operation most from artillery fire in the initial attack.
Retaliatory artillery fire and counter attack continued for several days afterwards and the operation was seen as a complete success allowing the new position to menace the enemy defences to the south towards Peronne.
It has been said that this operation played a small part in the German decision to retire to the Hindenburg line two weeks earlier than planned.
Walter was listed as missing on the 4th March 1917, less than 4 months after arriving in France.
Official records on the 22nd December 1917 showed acceptance that he was killed either on or after the 4th March during the operation described.
After Walter's death the Army would send a form to the next of kin to list the immediate family. This was completed by Flora who was back in Castle Bytham at the time.Listed on that official army is Wife Flora, Son John plus Walter's 2 step sisters and 3 step brothers, along with his mother Jane Johnson.

Sources
WW1 Soldier's Records (www.ancestry.co.uk)
British Newspaper Archive.
Fold 3
Find My Past
Genealogist
Forces War Records
British Army Service Numbers
War Gratuity Calculator
Commonwealth War Graves Commission
National Archives – Battalion War Diaries
General Registry Office