Biography of Private Sidney Alfred Ward (281882)
1st/1st County of London Yeomanry (Middlesex Duke of Cambridges Hussars Regiment)
Died 13th October 1918
Soldier
Name: Sidney Alfred Ward
Date of birth: 1895
Place of Birth: Grantham, Lincolnshire, England
Date of Birth Registration: Jnuary – March 1895
Place of Birth Registration: Grantham, Lincolnshire, England
Father
Name: George Ward
DOB: 1852
Place of Birth: Nassington, Northamptonshire, England
Occupation: Inn Keeper
Mother
Name: Sarah Elizabeth Wright
DOB: 1861
Place Of Birth: Colsterworth, Lincolnshire, England
Marriage: 1890 Bourne District
Siblings: (Name), (DOB), (POB)
Alfred E Ward, 1875, Peterborugh (half brother)
Alice Ward, 1876, Peterborough (half sister)
Bertha Ward, 1878, Peterborough (half sister)
Agnes Ward, 1879, Peterborough (half sister)
George Henry Ward, 1882, Peterborough (half brother)
Herbert Ward, 1892, Grantham
Sidney Alfred Ward, 1895, Grantham
Census
1901: Sidney is living with his parents in the Old Windmill Inn, North Street, Bourne, Lincolnshire.
1911: Sidney is living with his parents in The New Inn, Vine Street, Billingborough, Lincolnshire. The census gives him an age of 16 and he is listed as being at school.
Marriage
No marriage for Sidney has been found and because of his age we can assume that he never had the opportunity to marry.
Newspaper Mentions
Sleaford Gazette Saturday 2nd October 1915 and 25th September
SLEAFORD & DISTRICT ROLL OF HONOUR
BILLINGBOROUGH
Ward, Sidney, Lincs. Yeomanry, Bourne
Sleaford Gazette Saturday 16th November 1918
DIED ON ACTIVE SERVICE. – Mrs. George Ward, of New Inn, Billingborough, on Wednrsday week, received a telegram from the Cavalry Record's Office, York, informing her that her youngest surviving son, Trooper Sidney A, Ward (South Notts, Hussars, attached to the London Yeomanry), on service in Egypt, had succumbed to Jaundice and Malarial fever, and the sad news received with deep regart by his many friends.  Deceased, who was with Messrs Foley and Butler, agricultural engineers, Bourne, before the war, joined up in October 1914.  After receiving his training he was sent to Ireland and remained there for some time before joining the Eastern Forces.  Deceased was a bright promising lad of aout 23, and was a member of the town F.C.  Only quite recently his mother received a letter from her son which stated that he was quite well and happy.  The sudden and unexpected news therefore, came as a great shock.  Much sympathy is expressed for Mrs. Ward in her recent beavement, one of many, she has been called upon to bear during the last few years.
Lincolnshire Echo Tuesday 5th November 1918
Mrs George Ward, of the New Inn, Billingborough, has received news that her youngest son, Trooper Sidney A, Ward (South Notts Hussars), who was on active service in Egypt, has succumbed to jaundice and malarial fever.  Before joining the forces, four years ago, he was with Messrs. Foley and Butler, agricultural engineers, Bourne. Deceased was 25 years of age.
Soldier's Died In The Great War
These records show that Private Sydney Alfred Ward, 281882, 1st County of London Yeomanry (Middlesex Duke of Cambridges Hussars) was killed in action on 13th October 1918 in the Egyptian Theatre.
Pension Records
Effects Left To
Mother Elizabeth
Brother George H
Brother Albert
Brother in Law Charles
Medals
The British Medal
The Victory Medal
Memorials
Commonwealth War Graves Commission:
In memory of Private Sidney Alfred Ward, 281882, 1st/1st Middlesex Hussars who died on 13 October 1918 Age 23
Son of Sarah Elizabeth Ward, of Vine St., Billingborough, Lincs, and the late George Ward.
Remembered with honour, Damascus Commonwealth War Cemetery.

Grave A. 67.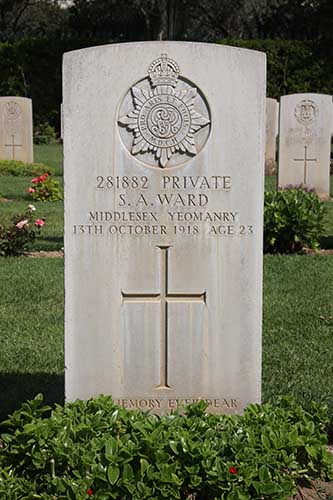 © The War Graves Photographic Project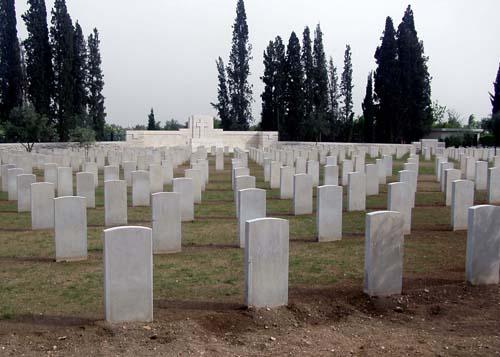 © The War Graves Photographic Project
Military Service Timeline
This is ongoing research and will be posted when completed
Sources
WW1 Soldier's Records (www.ancestry.co.uk)
British Newspaper Archive.
Fold 3
Find My Past
Genealogist
Forces War Records
British Army Service Numbers
War Gratuity Calculator
Commonwealth War Graves Commission
National Archives – Battalion War Diaries
General Registry Office