Biography of Private John Robert Wilson (111037)
Machine Gun Corps (Cavalry) Regiment
Formerly 1942, 2/1st Lincs Yeomanry and
55349 East Riding Yorkshire Yeomanry
Died 29th October 1918
Soldier
Name: John Robert Wilson
Date of birth: 1897
Place of Birth: Pointon, Lincolnshire, England
Date of Birth Registration: January – March 1897
Place of Birth Registration: Bourne, Lincolnshire, England
Father
Name: John Scott Wilson
DOB: 1872
Place of Birth:Billingborough, Lincolnshire, England
Occupation: Farmer
Mother
Name: Alice Thompson
DOB: 1875
Place Of Birth: Eastville, Lincolnshire, England
Marriage: 1895 Sleaford District
Siblings: (Name), (DOB), (POB)
John Robert Wilson, 1897, Pointon
Nellie Wilson, 1898, Burton Pedwardine
William Wilson, 1900, Burton Pedwardine
Ernest Wilson, 1903, Walcot
Elsie Wilson, 1905, Walcot
Frank Wilson, 1908, Billingborough
Arthur Wilson, 1912, Billingborough
Wilfred George Wilson, 1917, Billingborough
Census
1901: John is living with his parents in the Vicarage Road, Burton Pedwardine, Lincolnshire.
1911: John is living with his parent at Billingborough, Lincolnshire. The census gives him an age of 14 and he is listed as a son working on farm.
Relatives in services
John cousins Herbert and Fred Archer also fought in WW1 but Fred was killed and never returned. Fred can be found on our page dedicated to the Horbling War Memorial
Marriage
No marriage for John has been found and because of his age we can assume that he never had the opportunity to marry.
Newspaper Mentions
Lincolnshire Echo Monday 11th November 1918
LINCOLNSHIRE DAY BY DAY
Trooper J. R. Wilson (Yeomanry) Billingborough, is reported to have died in Egypt from typhoid fever.
Sleaford Gazette Saturday 23rd November 1918
BILLINGBOROUGH.
DIED ON ACTIVE SERVICE. – The sad news reached Mr. and Mrs. J. S. Wilson (High Street) last week that their eldest son, trooper J. R. Wilson, had died from typhoid fever while on active service in Egypt. He joined the Lincolnshire Yeomanry, and had been in the army four years at the time of his death. Recently he was transferred to a M.G. (Cavelry) Corps. He was about 22 years of age, and before joining the forces assisted his father in farming pursuits.  Much sympathy is extended to the parents in their bereavement.
Soldier's Died In The Great War
These records show that Private John Robert Wilson, 111037, Cavalry Bn Machine Gun Corps was killed in action on 29th October 1918 in the Egyptian Theatre.
Pension Records
Effects Left To
Medals
The British Medal
The Victory Medal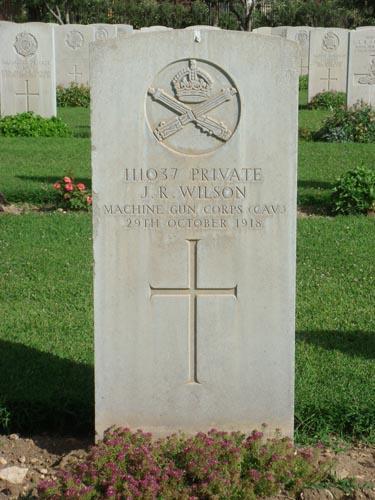 © The War Graves Photographic Project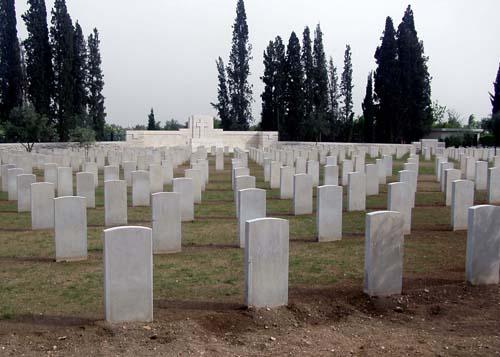 © The War Graves Photographic Project
Military Service Timeline
This is ongoing research and will be posted when completed
Sources
WW1 Soldier's Records (www.ancestry.co.uk)
British Newspaper Archive.
Fold 3
Find My Past
Genealogist
Forces War Records
British Army Service Numbers
War Gratuity Calculator
Commonwealth War Graves Commission
National Archives – Battalion War Diaries
General Registry Office