Biography of Private George Frederick Gibson (16408)
3rd Battalion Lincolnshire Regiment
Died 28th July 1915
Soldier
Name: George Frederick Gibson
Date of birth: 1893
Place of Birth: Billingborough, Lincolnshire, England
Date of Birth Registration: July – September 1893
Place of Birth Registration: Bourne, Lincolnshire, England
Father
Name: Tom Lambert Gibson
DOB: 17th March 1863
Place of Birth: Loughton, Lincolnshire, England
Occupation: Groom and Gardener (Not Domestic)
Mother
Name: Sarah Bagguley
DOB: 1st June 1861
Place Of Birth: Sheffield, Yorkshire, England
Marriage: 1884 Sheffield District
Siblings: (Name), (DOB), (POB)
Mary Elizabeth Gibson, 1884, Sheffield
Harry Gibson, 1886, Sheffield (Died 1886)
Annie Gibson, 1888, Sheffield
Caroline Gibson, 1890, Sheffield
George Frederick Gibson, 1893, Billingborough
Gertrude Louisa Gibson, 1895, Billingborough
Emily Gibson, 1898, Billingborough
Harry Gibson, 1899, Billingborough
Walter Gibson, 1902, Billingboroug
Plus 3 more whose names is unknown taken from the 1911 census
Census
1901: George is living with his parents on Fen Drove, Billingborough, Lincolnshire.
1911: George is living with the Cope family at North kyme, Lincolnshire. The census gives him an age of 18 and he is listed as a waggoner on farm.
Marriage
No marriage for George has been found and because of his age we can assume that he never had the opportunity to marry.
Newspaper Mentions
Grantham Journal Saturday 7th August 1915
BILLINGBOROUGH
DEATH OF A SOLDIER IN TRAINING – Private Fred Gibson, who was in training with the 3rd Lincolns at Weelsby Camp, Grimsby, has succumbed to an attack of pneumonia, following upon a severe cold.  He was the eldest son of Mr. and Mrs. Tom Gibson, of Vine-street, and was 22 years of age.  His keenness for soldiering was marked by his perseverance, for, after being rejected twice, on  account, it was said, of his eyesight, he was accepted.  He was at home a week or week before his death, looking the picture of health and happiness, and his unexpected demise came as a great shock to his friends, for whom much sympathy is felt.  He was buried at Grimsby on Monday, and was accorded a militay funeral.  His parents and two sisters were present.
Soldier's Died In The Great War
These records show that Private Frederick Gibson, 16408, 3rd Bn Lincolnshire Regiment was killed in action on 28th July 1915 in the Theatre of War at Home.
Pension Records
Effects Left To
Memorials
Commonwealth War Graves Commission:
In memory of Private George Frederick Gibson, 16408, 3rd Bn., Lincolnshire Regiment who died on 28 July 1915 Age 22
Son of Thomas and Sarah Gibson, of Vine St., Billingborough.
Remembered with honour, Grimsby (Scartho Road) Cemetery
Grave 42. D. 1.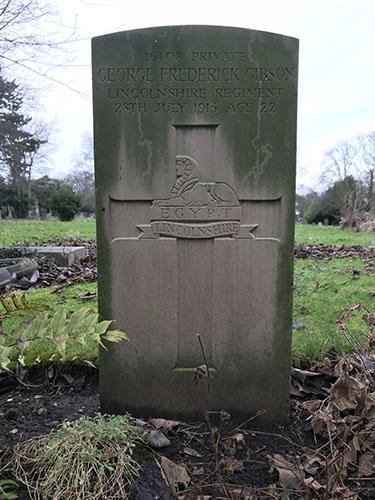 © Picture taken by South Lincolnshire War Memorials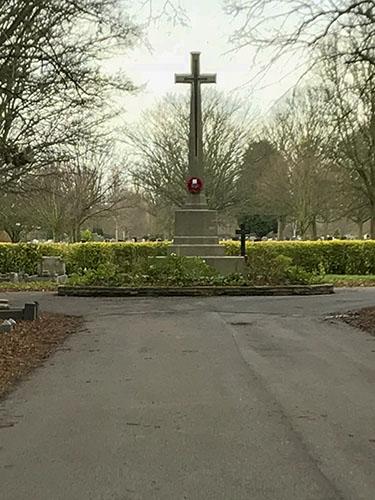 © Picture taken by South Lincolnshire War Memorials
Military Service Timeline
This is ongoing research and will be posted when completed
Sources
WW1 Soldier's Records (www.ancestry.co.uk)
British Newspaper Archive.
Fold 3
Find My Past
Genealogist
Forces War Records
British Army Service Numbers
War Gratuity Calculator
Commonwealth War Graves Commission
National Archives – Battalion War Diaries
General Registry Office