Biography of Private George Henry Wallace (23264)
1st Battalion, Machine Gun Corps Regiment
Formerly 13413 1st Battalion, Lincolnshire Regiment,
523 Grimsby Chums Battalion, Lincolnshire Regiment
and Notts & Derby (Sherwood Foresters)
Died 28th September 1918
Believed to be G H Wallace Baston Memorial
Soldier
Name: George Henry Wallis
Date of birth: 21st December 1891
Place of Birth: 9 Coburg Square, Walker Street, Sneinton, Nottinghamshire, England
Date of Birth Registration: 1892 January – March 1892
Place of Birth Registration: Nottingham, Nottinghamshire, England
Father
Name: Unknown
DOB: Unknown
Place of Birth: Unknown
Occupation: Unknown
Mother
Name: Ann Wallace
DOB: 1869
Place Of Birth: 

Leenside, Nottinghamshire

Marriage: Never married
Siblings: (Name), (DOB), (POB)
Sarah Wallace, 1883, Nottinghamshire
Elizabeth Wallace, 1885, Nottinghamshire
George Henry Wallace, 1891, Sneinton
Ambrose Wallace, 1897, Radford (Father Ambrose George Bowler)
Sarah Amelia Wallace, 1901, Radford (Father Ambrose George Bowler)
Lucy Bowler Wallace, 1908, Basford (Father Ambrose George Bowler)
Census
1901: George Henry Wallace/Wallis can not be found.
1911: George is living with the 2nd Sherwood Foresters at Crownhill Barracks, Crownhil, Devon. The census gives him an age of 19 and he is listed as a Private.
Wife
Name: Ada Elizabeth Jones
Date of birth: 13th April 1894
Place of Birth: Nottingham, Nottinghamshire, England
Marriage
Date of Marriage: 1915
Place of Marriage: Notttingham District
Wife's parents
Father: George Edmund Jones
Mother: Annie Elliott
Newspaper Mentions:
Sheffield Daily Telegraph Tuesday 13th July 1915
WOUNDED
1st LINCOLNS
Wallace (13412), G
The Times Tuesday July 13th 1915
WOUNDED
LINCOLNS REGT 1st BN
Wallace, 13413 G.
Yorkshire Post and Leeds Intelligencer Tuesday 13th July 1915
LINCOLNSHIRE REGIMENT
WOUNDED
Wallace, 13413 G.
Grantham Journal Saturday 17th July 1915
LINCOLNSHIRE REGIMENT
CASUALTIES WOUNDED
Wallace 13413 G.
Sheffield daily Telegraph Friday 25th August 1916
WOUNDED
LINCOLNS (ATTD. MACHINE GUN CORPS).
Wallace, (13413). G. H. (Old Basford)
Grimsby News Friday 1st September 1916
WOUNDED
Lincolnshire Regiment (attached Machine Gun Corps) Wallace, 13413 G. H. (Old Basford)
The Times Friday September 29th 1916
WOUNDED
LINCOLN R. 
Wallace, 13413 G.
Weekly Casualty (War Office & Air Ministry) Tuesday 19th November 1918
KILLED
MACHINE GUN CORPS
Wallace 23264 G. H. (Bradford)
Soldier's Died In The Great War
These records show that Private George Henry Wallace, 23264, Infantry Bn Machine Gun Corps was killed in action on 28th September 1918 in the Western European Theatre in France and Flanders.
Pension Records
Effects Left To
Medals
The British Medal
The Victory Medal
The 15 Star
Memorials
UK:
Baston, Roll of Honour in St John the Baptist Church
Commonwealth War Graves Commission:
In memory of Private G N Wallace, 23464, 1st Bn., Machine Gun Corps (Infantry) Regiment who died on 28 September 1918
Husband of Mrs. A. E. Mcloughlin (formerly Wallace), 1, Monsall St. New Basford, Nottinham.
Remembered with honour, Bellicourt British Cemetery
Grave IV. A. 8
© Picture taken by South Lincolnshire War Memorials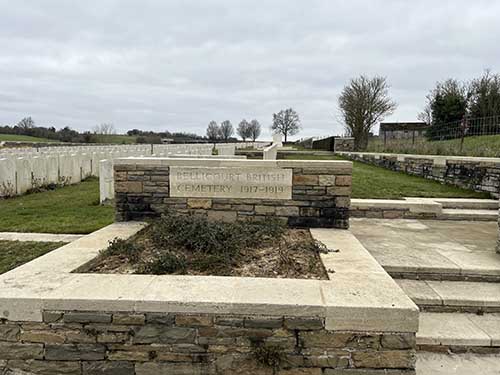 © Picture taken by South Lincolnshire War Memorials
Military Service Timeline
This is ongoing research and will be posted when completed
Sources
WW1 Soldier's Records (www.ancestry.co.uk)
British Newspaper Archive.
Fold 3
Find My Past
Genealogist
Forces War Records
British Army Service Numbers
War Gratuity Calculator
Commonwealth War Graves Commission
National Archives – Battalion War Diaries
General Registry Office